The capital city Podgorica is the political, administrative, cultural, economic, scientific, educational and sport center of Montenegro. It belongs to the central part of the country and covers an area of 1,441 km² which makes 10,43% of the territory of Montenegro. The city center is about 50 km from the Adriatic sea and 20 km from Lake Skadar. Altitude Podgorica is 44 m.
Podgorica is characterized by a Mediterranean climate that gives it its status as one of the hottest capitals in Europe with over 240 days of sunshine per year. In Podgorica today lives of over 200,000 inhabitants.
Podgorica is a multinational, multireligious and multicultural society.
Podgorica is situated at the North part of Zeta valley, at the center of Montenegro, at the crossroad of several important road directions that lead from the sea towards the continental part of the country.
It is located at an altitude of 44,5 meters. Geographical position is defined by coordinates 42,26 of Northen latitude and 19,16 degrees of East longitude.
Fertile plain of Zeta, composition of the River Zeta and Ribnica with Morača, immediate vicinity of Skadar Lake and Adriatic Sea, favourable climate, communication and strategic position, made it possible Podgorica to become the biggest urban agglomeration of Montenegro. It is not only a modern city, but the city which represents administrativ, political, economic, traffic, scientific and educational-cultural center of Montenegro.
Its prosperity in the post war period accelerated the City development as a  whole.
Skadar Lake, vicinity of the sea, altitude, relief, latitude, caused the various macro and micro climate at the area of Podgorica valley.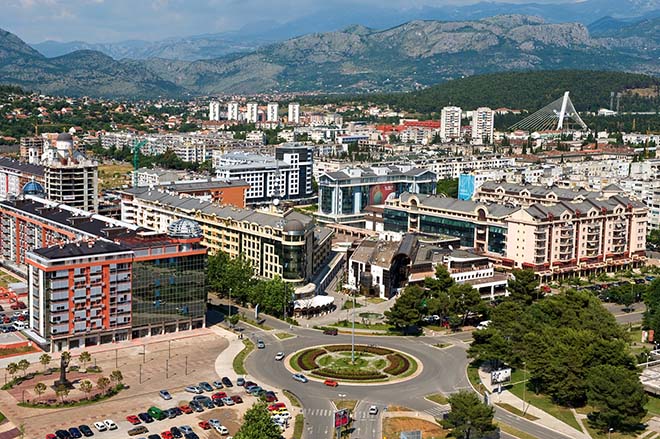 Large number of subterranean waters makes this area known by healthy drinking water. River Morača and River Ribnica have a special value and a natural beauty and they cross the City North-South and East-West. 
Limestone beds, stone eaves, caves and specific canyons through which clean and clear rivers flow, with plenty of beaches, rapids, curves and vortexes remain in the long memory of the passenger. Podgorica is also surrounded by lush vineyards, called: Cemovsko, Ljesansko, Doljansko.
Podgorica is situated at the biggest flat ground area of Montenegro, as a part of spacious Skadar-Podgorica valley. It is gently sloping towards South and South-West. South part of Zeta valley, called Lower Zeta (Donja Zeta) continues towars Skadar Lake as a flooded land. This is an extremely fertile part of the plain with sedimented particles that form a thick layer of arable land, suitable for vegetable crops, such as peppers and tomatoes, as well as wine and fruit growing – specially for peaches, figs and kiwi growing.
In the central part of the Zeta Plain in the triangle between Rivers Cijevna, Ribnica and Moraca a spacious Cemovsko Field is placed, made of layers of gravel and sand, set with carbonate cement. In this field, a thicker layer of arable land has never been formed. With special agricultural technology hundreds of acres are won and transformed into vineyards with high-quality yield and subsequent production of quality wines and spirits. At the West, Podgorica opens towards Bjelopavlici Plain through which River Zeta meandrs, and which is climatic and pedologicaly extremely favorable for farming and fruit growing.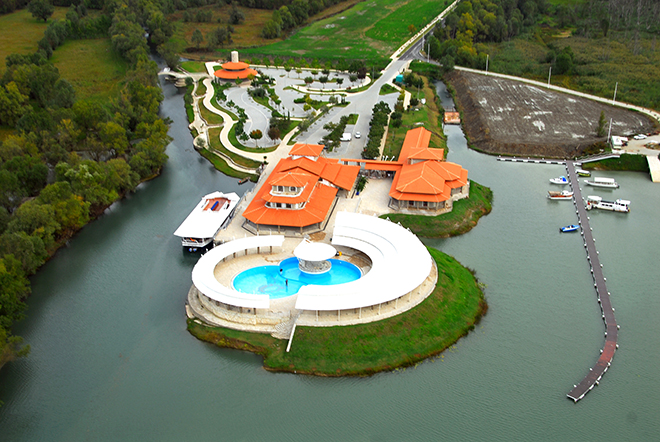 The city itself is known by spacious and nicely aranged green surface and parks. In some of them the pine tree dominates and in the others there are more deciduous trees such as linden, oak and plane trees. In the last period the boulevards in Podgorica are spreaded and they are decorated with the atractive trees – palms. Along the main city roads there are bushy vegetation like boxwood.
Zeta Plain where the city is situated is a unique area with 30 000 acres of arable land and it is extended from Head of Zeta to the shores of Skadar Lake.
River Moraca is relatively rich with fish that confirms a common sight to the fishermen at the banks of the river, even in the city itself. A visitor of the city who is interested may inform at the Sports Fishing Club of Podgorica for necessary permits and valuable advices, which could be offered by lovers of this sport, and concernes the fishing places, equipment and what is most important, friendship.
Rivers are therefore the sources of life. Rivers Moraca, Ribnica, Zeta, Sitnica, Mareza and Cijevna have determined the city borders for ages, but also a great number of subterranean waters make this area rich of a healthy drinking water. Limestone beds and extraordinary relief sculptured by Podgorica waters, apart from the practical, give Podgorica ecological aesthetic appearance.
Podgorica is made of the areas characteristic by their geography. In the area of Kuči and Piperi, agricultural production and cattle-breeding dominate the fruit growing, while mountain patato in this area thrive extremely well. Here, fishponds could be found in which the excellent trout is bred.
The Adriatic Sea makes an influence on the climate of Podgorica, along the vale of River Bojana, through the Lake of Scadar. Under the influence of surrounding mountains, Mediterranean climate is changing, so that Podgorica has Mediterranean – changed climate, which is characterized by warm and hot summers and mild and rainy winters. Thanks to the thermo influence of the Adriatic Sea, Podgorica has quite high winter temperature. 
     ●  The average annual temperature in Podgorica is 16,4°C, maximum 40,7°C, and minimum – 4,6°C.
     ●  The average quantity of falls in Podgorica is 1544mm, and the air humidity is 59,6%.
     ●  The average number of rainy days is 118,3 snowing days, and 58 days with strong wind. 
Summer in Podgorica is extremely warm and long. There are around 135 summer days, in which the air temperature reaches or surpasses the limit of 25°C. Lot of sunshine and warmth, relatively small number of days with falls, favourable average air humidity and strong winds are the main climate characteristics which make Podgorica the area with pleasant climate.
Territory and Inhabitants
Podgorica is a capital of Montenegro and covers the area of about 1500 sqkm, respectively 10,7 % of Montenegrin territory.
According to the latest statistics, 187.085 inhabitants live in Podgorica presently, which is 30% of total Montenegrin population.
The population makes up 49,39 % of men and women 50,61 %.
In Podgorica there are: 57,35 % – of Montenegrins, 23,35 % – of Serbs, 5,13 % – of Albanians, 2,22 % – of Muslims, 1,98 % – of Bosnjaks, 0,36 % – of Croats, 0,37 % – of Egyptians.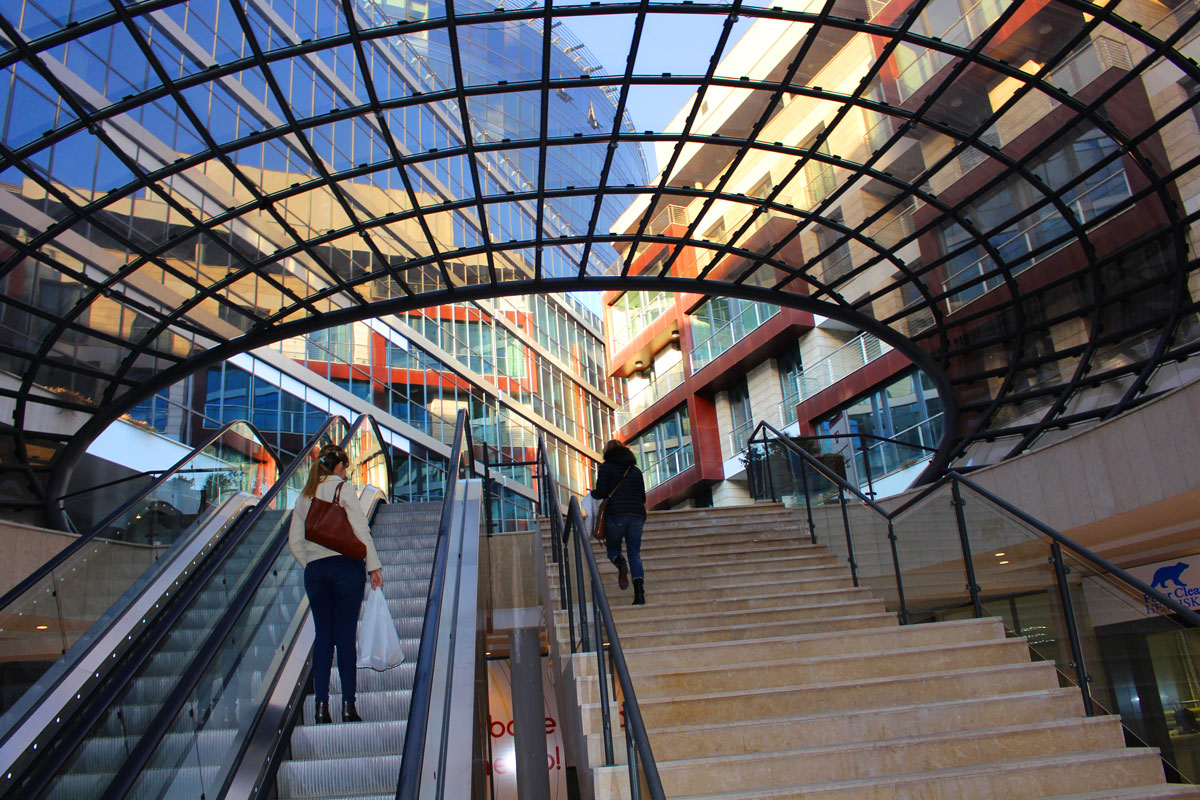 At the territory of Capital Podgorica there are two city districts (Tuzi and Golubovci) and 141 rural settlements with 66 local communities.
Located at Podgorica-Skadar ravine, the territory is surrounded by the area of Kuči and Piperi, further on by Komovi, and then by Radovče and Kamenika, and the mountains of Morača at the West. Sloping from North-East to South-West and South, the Capital territory covers Zeta Valley which is the biggest valley in Montenegro with 240 sqkm. Spreading along the Northern shore of Skadar Lake, Zeta Valley is at an altitude of 6 meters in the lake area, and up to 56 meters in the mountain hinterland.
At the spacious Zeta Valley rise the hills (Vranjska Gora 85m, Ljubović 101m, Gorica 130m, Dajbabska Gora 175m, Malo Brdo 205m, Hum 276m, Vranjina 303m and other smaller hills), that with jagged edge of the valley separate some fields (Field of Ocko, Ćemovsko, Momišići, Tološi and Lješkopolje) and planes (Liješti and Karabuš). They are crossed by rivers: Zeta and Sitnica, as a right tributaries; Ribnica and Cijevna, as a left tributories which flow by Morača River into Skadar Lake, making 62 % of water balance of Skadar Lake.